This post may contain affiliate links. We may earn money or products from companies mentioned in this post. Thank you in advance for supporting Aly Dawn Photography! Please see full Disclosure.
This blog post is all about composition techniques that will improve your photography. Learning how to compose your images is a great next step in improving your photography. There are so many ways to improve your photography. I recommend learning manual exposure first, if you haven't already. Learning manual exposure drastically improved my photography. After you learn manual exposure, the next step is learning how to compose your images better. Learning composition is fun – trust me! It will help take your images from snapshots to work of art. I'm going to go through all the composition 'rules' (they are more of guidelines to experiment with) that will help take your photography to the next level.
These composition techniques are easy, but do take time to see and learn. Practice will only make you better, so I encourage you to pick on composition technique to work on and work on that one for at least a week before moving on to a new composition technique.
10 Different Ways to Compose Your Photos & Add Interest
1. rule of thirds
You are more than likely already implementing this rule in a lot of your photos. Divide your photo into nine even sections. Two horizontal lines & two vertical lines – this is known as the rule of thirds. At the intersections of these lines is where you would place your subject. This placement is so natural.
A few tips when using the rule of thirds as a composition technique:
Place the eyes on a intersecting line
Place the horizon on one of the lines
Place subject on a intersecting line
If you're still stuck, this is an excellent tutorial on photographing with the rule of thirds in mind.
2. leading lines
Leading lines refer to any lines in your image that lead your viewer straight to the subject of your image. Since photography isn't an exact science, these lines could be anything in your image that helps lead the viewer to your subject.
I like to combine leading lines with other composition techniques, such as (but not limited to) the rule of thirds, framing, or center. When I first started photography, no one ever told me you could combine composition techniques, but it just makes sense and will only make your images stronger.
The lines are literally everywhere. They could be actual lines or implied lines. Once you start looking for leading lines, you'll see them everywhere. And you'll be able to add impact to your images right away.
3. fill the frame
Filling the frame with your subject is an awesome composition technique. It really helps when you want to focus on details (like eye lashes!) or get rid of distractions in the background.
You can pair this composition techniques with the rule of thirds or center compositions.
I personally think filling the frame is a great way to capture children. Especially if they are asleep 🙂
Pro tip: Use a longer focal length so that you don't have to be physically in your subjects face. This way you can fill the frame without being uncomfortably close to your subject.
I use fill the frame in my macro photography work a lot, as well. It's perfect to focus on the beauty and texture of your subjects.
4. color
I love using color to draw attention to my photographs. You can use similar colors to add interest. You can also use complementary colors in your compositions. I use complementary colors a lot in my macro work.
Another way to use color is to help add a pop of color. For example: if you are photographing in snow, you could dress your subject in pink, blue, or red to help add a pop of color. Yellow might not be a good option for snow (you know why) and white will make it so your subject gets lost!
If you know you're going to a place that has a lot of green, you could dress your subject in red (greens complementary color) to help your subject pop off the background.
This wheel really helped me when I was studying color and how to use them.
Complementary is the color across the color wheel. But you could also use primary, or analogous, or split complementary to help compose your images. I know I'll be using more of all of those in my work from now on!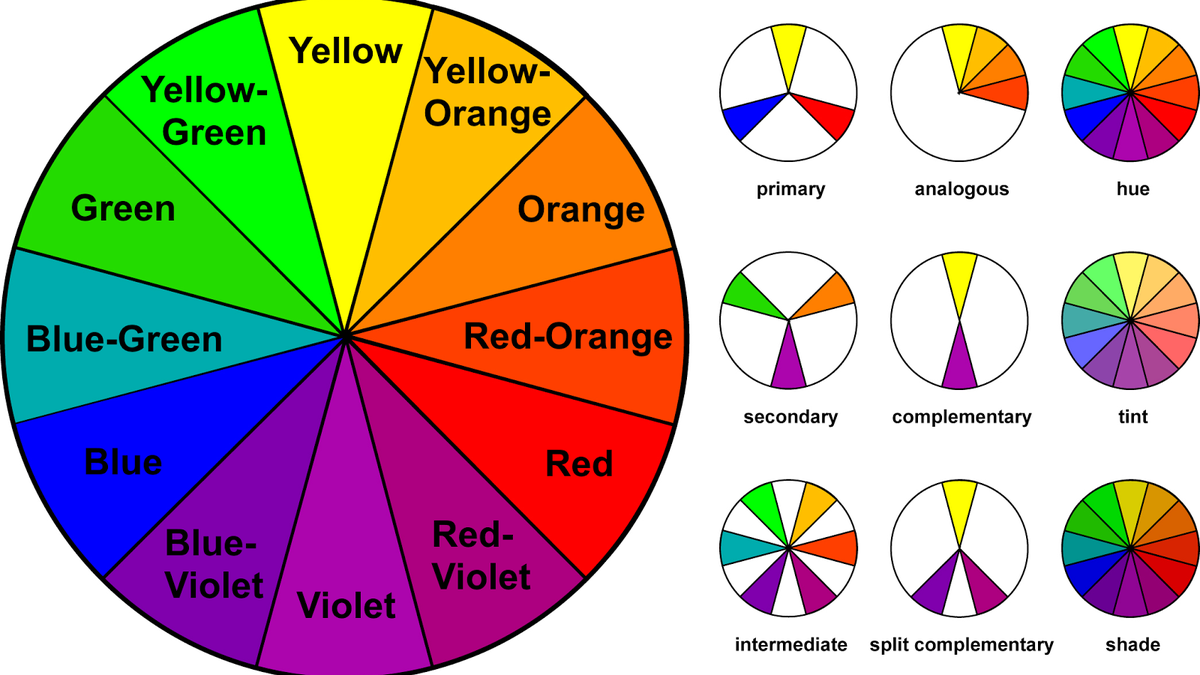 Color is such a fun way to help add interest and can instantly improve your photography when you implement it.
5. texture
I love using texture in my work to draw the viewer in. I use texture by adding blankets in (especially for my newborn work), clothing, I use texture in my macro work by getting nice and close to my flowers and showing their textures.
You could also do a double exposure to add texture to your photography. In camera or in post processing.
Adding texture is an easy way to help add interest to your images.
6. center composition
A center composition is where you place your subject in the very center of your photograph.
Some photographers really shy away from center compositions, mostly because they are the simplest composition there is. But when you pair center composition with leading lines, framing, color, etc. It really helps draw your viewer in.
Center compositions help create symmetry in your image.
It's also a great composition techniques to use if you want to simplify your scene.
One thing I do know about center composition, is use it with confidence. Just because photographers typically shy away from it, doesn't mean you never use it. When you use a center composition, be sure to have a reason to do so.
7. framing
It's really easy to use framing in your photography. Look for something that 'frames' your photography, for lack of a better word.
I love framing. Framing is a great way to make an image look more appealing. There are many natural frames in nature. You can use windows, doors, trees, anything that creates a frame within the frame.
You can even use light to frame your subject. Once you start looking for frames in your photography, you won't be able to stop seeing them.
Another way I love to use framing is to use the side of the image as part of my frame.
8. negative space
Negative space is the area between and around objects in a photo. Use it to see shapes and sizes more effectively, and produce better composed images.
I love using negative space to also show the scale (which we won't talk about this time) of your subject. Using negative space can help show just how small your subject is in this big world!
Using negative space can also help simplify your image.
9. reflections
I love the way reflections look in an image. This technique is especially beautiful in landscape photography. But everyday reflections can add so much depth and symmetry as well. Images with reflections in them always cause me to stop and stare a little longer.
I love using mirrors to add in reflections. After a rain fall, there are always lots of opportunities to find reflections from puddles. Going to the beach is also a good way to find reflections.
10. depth
Adding depth to your image is fun. Basically, when you having things in the foreground (front) of your image, it helps give your image depth – or make it look more life like. It can really help to bring your images to life when you add depth. Try 'shooting' through objects to create foreground blur.
I love using doorways or windows to add depth. Like in the image above, I used the doorway, towel, toilet, and bathtub to help add depth.
You could also use depth by using grass in your foreground. Or a pile of laundry clothes as you try to fold the clothes. Adding depth in your images can help the viewer connect with your image better and understand exactly what is going on within the frame.
---
I hope these 10 composition techniques have inspired you to get out and practice! But remember – these rules are just 'rules' or guidelines, that once you know how to use them, they are OK to break and experiment with. Don't ever feel like your image is good enough if it doesn't have one of these rules in them. Remember to practice all of these composition techniques – practice is what will really take your images from snapshots to amazing works of art.
Please leave a comment
What is your favorite composition technique? What is a composition technique you use the most? Let me know in the comments below! And if you have any questions, please don't hesitate to ask them.
Alyssa (sometimes going by Aly) is a hobbyist photographer who loves to teach. Her love of photography started before she ever had any kids. Now a mom of two, she loves to photograph her kids, flowers, and landscape. She specializes in capturing her everyday life. She loves to teach fellow beginner photographers how to take control of their cameras and get the images they dream about getting.